We supply all of your veriflo needs through trusted suppliers. These are listed below according to manufacturer.
Parker's Veriflo Division is a leading manufacturer of precision diaphragm and bulk gas valves, regulators, and flow control components for the control and application of liquids and gases.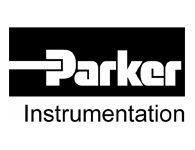 The Mini ChangeOver System (COSM) is a compact turnkey module that assists the operator
with their total gas management.
The COSM maintains continuous gas delivery from two separate sources allowing for maximum cylinder gas usage from one source before automatically switching to the second source. The COSM lowers specialty gas costs by maximizing the consumption of gas from each cylinder.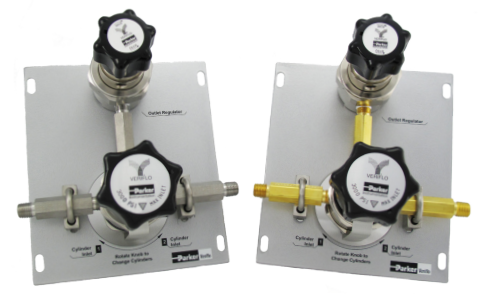 Product Features
Allows change out of depleted cylinder(s) while maintaining gas flow
Especially suited for continuous on-stream analyzers
Compact design reduces footprint
Max Inlet Pressure of 3,000 psig with 4 delivery options (100, 150, 200 or 250 psig)
Outlet Regulator for constant or steady line pressure during changeover
Regulator design integrates positive upward and downward stops which increases cycle life by preventing over stroking of the diaphragm
Available in Stainless Steel or Brass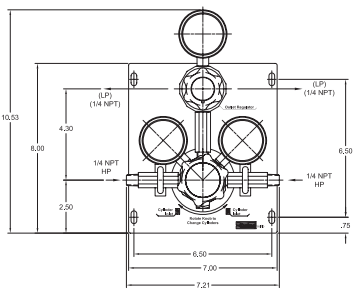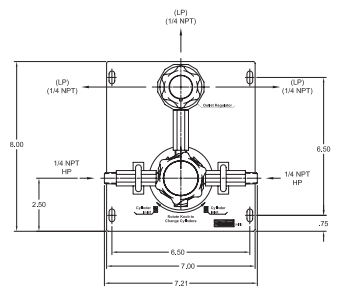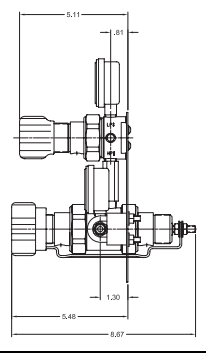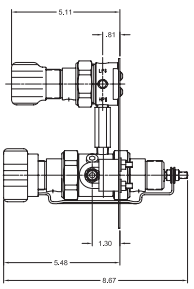 Parker is always working to further assure leak-free performance and provide fitting tools, components and fabrication equipment that maintain their integrity longer.
Product Types
Face Seal UHP Fittings
Flared Instrumentation Tube Fittings
Welded and Soldered Instrumentation Tube Fittings
Welded UHP Tube Fittings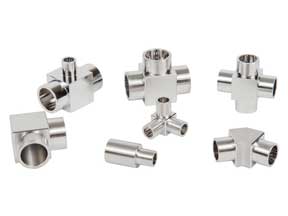 Parker offers premium valves for use in hydraulic, pneumatic, instrumentation, refrigeration and aerospace applications, available in a variety of types and configurations. Parker valves can be manual, motor actuated or solenoid air operated and electrically actuated, while mounting configurations can be sub-based, in-line or manifold.
Product Types
Manual Safety Valves
Pressure Relief Valves
Stopcock Valves
Ultra High Purity Bulk Gas Valves
Ultra High Purity Check Valves
Ultra High Purity Diaphragm Valves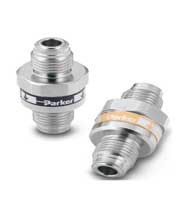 UHP Stainless Steel Check Valves
Using a Parker air flowmeter system is an excellent way to control energy costs. Featuring a high accuracy sensor, our air flowmeters can easily evaluate compressor efficiency and identify costly air and gas leaks. Parker air flowmeters provide accurate measurement of mass flow rate, responsiveness and low-flow sensitivity.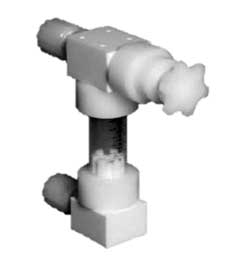 Ultra High Purity Gas Regulators
Fuel Regulation Modules
Single Stage, General Purpose Pressure Regulators
Two Stage, General Purpose Pressure Regulators
Single Stage, Pressure Regulators, Welded
Back Pressure Regulators
Electrically Heated, Vaporizing Pressure Regulators
Steam Heated, Vaporizing Pressure Regulators
And Many More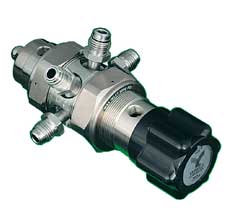 Two Stage, Tied Diaphragm Regulator
Contact us for more information on your veriflo needs. Click here or call 412-269-0020. A qualified professional is waiting to assist you.