Level, Temperature, Flow, and Pressure Instrumentation
We supply all of your level, temperature, flow, and pressure instrumentation through trusted suppliers. These are listed below according to manufacturer.
WIKA is a global market leader in pressure, temperature, level and flow measurement technology. Working together with customers, they develop comprehensive solutions based on high-quality measurement technology components, with the solutions ultimately being integrated in the customer's business processes.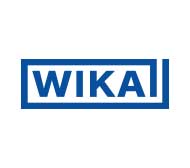 Pressure Instrumentation
Electronic Pressure Measurement
Mechatronic Pressure Measurement
Mechanical Pressure Measurement
Diaphragm Seals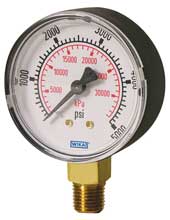 Bourdon Tube Pressure Gauge
Temperature Instrumentation
Electronic Temperature Measurement
Mechatronic Temperature Measurement
Mechanical Temperature Measurement
Thermowells
Level Instrumentation
Measurement via Communicating Chambers
Continuous In-Tank Measurement
Measurement of Switching Points in the Tank
Submersible Pressure Transmitters
Dwyer has a full line of industrial controls including pressure gauges, manometers, pressure switches, transmitters, flow meters, flow switches, and pitot tubes.
Pressure Instrumentation
Differential Pressure Gauges
Differential Pressure Controllers
Differential Pressure Switch/Gauges
Direct Drive Pressure Gauges
Pressure Indicating Transmitters
Digital Indicating Transmitters
Spiral Tube Pressure Gauges
Digital Calibration Gauges
Stainless Steel Schaeffer Gauges
Low Pressure Gauges
Series 2000 Magnehelic® Differential Pressure Gauge
Temperature Instrumentation
Digital Thermocouple Thermometers
Process Controllers
Weatherproof Enclosures
Transmitters
Sensors
Indicators
Switches
Thermometers
Thermostats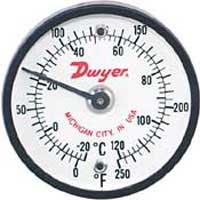 Series ST Surface Mount Thermometer
Level Instrumentation
Level Indicators
Water Leak Detectors
Pump Controllers
Bin Vibrators
Level Switches
Level Transmitters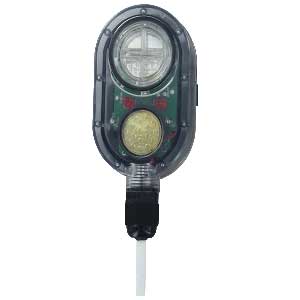 Series WD3 Water Leak Detector
Flow Instrumentation
Sight Flow Indicators
Mass Flowmeters and Controllers
Flow Indicators / Controllers
Flow Transmitters
Flow Sensors
Flow Switches
Flowmeters
Water Meters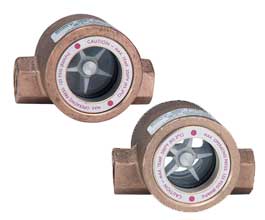 Contact us for more information on level, temperature, flow, and pressure instrumentation. Click here or call 412-269-0020. A qualified professional is waiting to assist you.