Filters, Separators, and Purifiers
We supply all of your filters, separators, and purifiers through trusted suppliers. These are listed below according to manufacturer.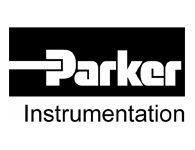 Water Purification and Desalination
Parker's worldwide reputation for leadership and innovation in filtration technology has been dedicated to developing quality filtration and separation solutions for some of the most challenging environments, including commercial marine, pleasure marine, drinking, industrial and process, defense, oil and gas, land based and disaster relief applications. Parker offers a wide range of watermakers, large RO systems, pumps, oily water separators, filter housings, vessels, elements, cartridges and capsules and integrity test equipment for specific water treatment needs.
Water Analyzer and Test Equipment
Trihalomethane (THM) Analyzer
Parker's PH Series, THM-1000 Analyzer is an easy to operate, integrated Purge-and-Trap Gas Chromatograph (GC) that measures Trihalomethane (THM) concentration at ppb levels in less than 30 minutes right at your own facility without tedious sample preparation. This integrated system is a powerful tool that can help operators optimize water treatment at the plant and evaluate water age in the distribution system for improved control over the formation of THMs.
Simply collect a sample and connect it to the analyzer sparging system. Then push the start button to begin the measurement cycle. Individual and total THM information is displayed clearly on the analyzer touchscreen and laptop display. Analytical results, including measured concentration and detailed chromatography data are automatically archived for future review. The data may also be transferred to other software packages for more detailed trending analysis of THM information.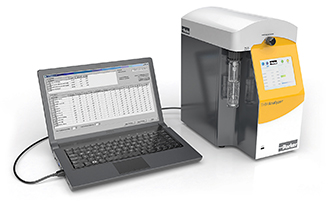 Features/Benefits:
30-minute analysis eliminates expensive and time-consuming off-site analysis for process control
Integrated Purge-and-Trap means that no sample preparation required
Rapid operator feedback allows for immediate process adjustment capability
Push-button simplicity provides fast and easy operation; all-in-one sample sparging component separation, and data analysis
Dedicated instrument helps ensure the safety of public drinking water
Water Analyzer, Online THM-1000 Series
Parker's Online THM-1000 Series Analyzer is an easy to operate, online purge and trap gas chromatograph (GC) that measures THM concentration at ppb levels in less than 30 minutes. The analyzer runs based on the modified EPA 524.2 method as it uses purge and trap to collect THMs from the water and desorbed from the trap to a gas chromatograph column followed by analysis of the each individual THM species. It reports each individual species of THM as well as the total THM. The analyzer uses nitrogen gas to do this analysis. The analyzer is being kept at 35°C by running the facility water by the heat exchanger located on the back of the gas chromatograph column and trap heater mounted panel inside the analyzer. If the facility water temperature is ≤ 26°C then the customer does not need any water chiller and connection kit to get the correct response for the THM analysis. However, if the water temperature goes ≥26°C, the customer should have a water chiller and connection kit for the Parker Online THM Analyzer. Parker will provide that with additional cost. Most of our present installations do not require a water chiller because their water temperature is ≤26°C.
Each Parker On-Line THM Analyzer is shipped with installation and preventive care packages. The installation package includes installation and training on the analyzer. In addition, the installation package comes with nitrogen gas connection kit, water connection kit, tubing both for the gas connection and water connection kit, calibration tool kit, and trihalomethane (THM) stock standard. There is a shared responsibility between the customer and Parker representative to complete a successful installation of the Parker On-Line THM Analyzer.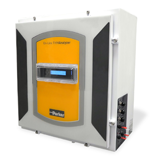 Features/Benefits:
No chemicals required for the analysis of THM species (no chemical cost)
Runs every hour, each run takes less than 30 minutes
From water facility SCADA, the operator can command to run it when it is not doing any scheduled THM analysis
Operator can program the analyzer to run THM analysis at different hours (it does not need to run every hour if the water operator choose to do so)
Each THM analysis is reported to the SCADA in microgram per liter (ppb) for each individual THM species and total THM
Comes with a grab sampler – Operator can bring sample from different locations and use the local mode to run these samples on the On-Line THM Analyzer
Calibration Kit, THM Analyzer
Parker's THM Calibration Kit was designed to simplify routine Analyzer calibration when used with Parker's THM-Standard concentrated calibration solution. The tool kit contains six 100mL calibrated volumetric flasks required for preparing the six recommended THM calibration standards and also 12 EPA amber 40 mL glass vials for holding the prepared standards prior to use. Also included are three gas tight syringes, 2.5 mL, 100 uL and 10 uL volumes required for spiking pure water with concentrated calibration solution to prepare calibration standards with THM concentration ranges between 1 PPB to 100 PBB. Detailed instructions for preparation are included in the Analyzer manual.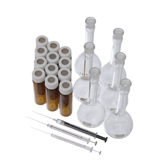 Features/Benefits:
Complete Kit to calibrate water samples
Six Calibrated Flasks
12 Glass holding vials for standards
Three gas tight syringes with calibration solution
Carrier Gas Kit, THM Analyzer
Parker's THM Carrier Gas Kit contains premium Parker pressure handling components selected specifically to assure helium gas is delivered at accurate but limited pressures to protect the Analyzer from damage that could result from excessive pressure. The kit includes a Parker Veriflo IR6000 all 316 stainless steel 2-stage, 5-port w/pressure relief pressure regulator with 2 pressure gages and a Veriflo stainless diaphragm shut-off valve. The regulator is provided with a CGA 580 connector which will directly connect to a standard 2500 psi helium cylinder. The two stage regulator provides for highly stable outlet pressure control. Maximum outlet pressure is 60 psi, which assures that the analyzer will be protected from damage caused by over pressurization. Also included in the kit is 25 ft of Parker Parflex premium grade 1/8" diameter PFA tube and a set of six Parker A-LOK® compression fittings for making leak-free tube connections to the regulator and analyzer.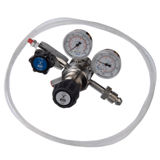 Features/Benefits:
Complete Kit to hook up carrier gas
Parker Veriflo Regulator for gas control
Parflex tubing for easy installation
Parker A-LOK® fittings for leak free connections
Product Carrying Case, THM Analyzer
Parker's THM Analyzer case is constructed from lightweight but very durable polyethylene with a large ribbed design reinforced with a heavy duty aluminum valance for extra strength. The case features recessed quarter turn latches, spring loaded handles and a 3-stage telescoping handle combined with ball bearing recessed wheels to make transporting or shipping the case easy. The case is lined with polyurethane foam with precision cut-outs to safely hold your analyzer, laptop and power cords. The case dimensions are 24" x 21" x 14", which small enough to fit into most car trunks. Case weight is only 47 lbs. fully loaded.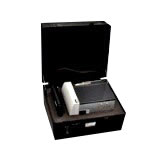 Features/Benefits:
Lightweight Design
Recessed Wheels for easy transportation
Lined with Foam to protect instrument
Calibration Kit, THM Analyzer - Performance Series
Parker's THM Performance Kit contains products for routine calibration validation. Regularly verifying the accuracy of your THM calibration is critically important to assure the continuing quality of your water analyses. The Performance Tool Kit was designed to simplify routine Analyzer calibration checks (performance tests) when used with Parker's THM-Standard concentrated calibration solution. The tool kit contains a 100mL calibrated volumetric flask required for preparing the performance test standard and also two EPA amber 40 mL glass vials for holding the prepared standard prior to use. Also included are two gas tight syringes, 2.5 mL and 100 uL volumes required for spiking pure water with concentrated calibration solution to prepare performance test standards with THM concentration ranges between 10 PPB to 100 PBB. Detailed instructions for preparation are included in the Analyzer manual.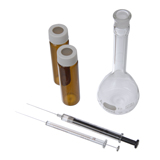 Features/Benefits:
Complete Kit
100mL calibrated volumetric flask for easy preparation of samples
Two gas tight syringes
Preparation Instructions
Replacement Kit, Analyzer Preconcentrator
Parker's THM Replacement Preconcentrator traps and concentrates the THM compounds which are sparged out of the water sample. The preconcentrator must be heated to 240oC during each analysis run to release the trapped compounds to the GC column. This repeated thermal cycling eventually reduces the effectiveness of the trap, affecting analysis accuracy and forcing more frequent instrument calibrations. The Parker Preconcentrator is constructed with 1/8" diameter 316 stainless tube with a specially inerted interior finish and filled with a Tenax TA adsorbent bed. The adsorbent bed is sealed between porous sintered 316 stainless plugs designed to assure uniform sparge gas flow throughout the bed which improves compound absorption and desorption.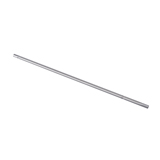 Features/Benefits:
Replacement Kit
Constructed from 316 Stainless Steel Tubing
Special internal finish for sample integrity
Sample Bottle, THM Analyzer Replacement Bottle
Parker's THM Replacement Sample Bottle is custom designed for the THM Analyzer. The tempered borosilicate glass sample bottle has been designed to safely handle gas pressure developed during water sample sparging. It also has a soft plastic safety coating on the exterior to prevent breakage from minor drops and to minimize glass shattering when broken. The bottle has a precision bore and length to assure optimal water sample depth and sparger position. The bottle is permanently marked with a calibrated 40 mL fill line to assist with accurate sample loading and features a threaded top for easy attachment to your analyzer.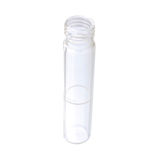 Features/Benefits:
Soft plastic safety coated glass
Precision ID and length for sample
Fill Line permanently marked on bottle
Sparger, THM Analyzer Replacement Sparger
Parker's THM Replacement Sparger is all-welded construction with 316 stainless tubing and a porous sintered metal frit with a preset Parker A-LOK® nut and ferrule set for attachment to the analyzer. The sintered sparging frit has controlled pore size to assure optimal sparge bubble size, resulting in more efficient sparging of the volatile compounds and more consistent analysis results. The length of the Sparger is designed to position the porous frit at the optimum water depth for more effective sparging.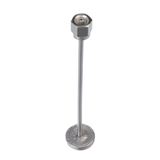 Features/Benefits:
All welded design
316 stainless steel tubing material
Controlled frit size for better results
Solution Standard, THM Analysis Standard
Parker's THM Standard is a 1mL volume solution with 100ug/ml concentration of the 4 THM compounds – chloroform, dichlorobromomethane, dibromochloromethane and bromoform – in methanol. The solution is sealed in a 2 mL glass ampule and contains a second vial with a septa cap for transfer of the solution after the sealed ampule is opened. A certificate of solution analysis is included. The solution is prepared at a custom concentration designed to simplify the preparation of calibration and performance test standards when using either the Parker Calibration or Performance Tool Kit.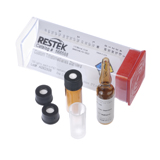 Features/Benefits:
Certified Standard to calibrate equipment
Certification Included
Helps simplify sample preparation
Syringe, THM Analyzer Syringe
Parker's THM Replacement Syringe are "gas tight" precision syringes that are recommended for preparing THM spiked calibration and performance test standard solutions. Hamilton Syringes feature cemented stainless steel needles with special tip designs for piercing septa without plugging. The gas tight design is easy to use and assures more accurate volume fill with resulting improvement in spiked standard concentration accuracy.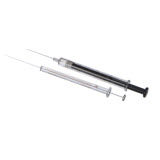 Features/Benefits:
Gas Tight Design
Cemented stainless steel needles
Special tip design to prevent plugging
Contact us for more information on filters, separators and purifiers.
Click here or call 412-269-0020. A qualified professional is waiting to assist you.