Replacement Filter Elements
We supply all of your replacement filter elements through trusted suppliers. These are listed below according to manufacturer.
A complete line of industrial filtration elements available on the market today. Fluitek's line covers over 20,000 different models for oil, fuel, water and air filter applications.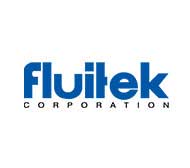 Absorption elements(filters) are designed to remove water or a specific chemical from fuel, solvents, and oils which is emulsified by the presence of surfactants and will not separate in a coalescer/separator process. These elements are commonly used at refineries, fuel pipe-lines, machine shops, and oil recycling applications. Available in several sizes to fit existing filter vessels, these elements are capable of removing up to 4 quarts of water per element while reducing free water content down below 10 ppm.
The filtration layer of the element allows the element to be used in a dual process by removing particulate as well as absorbing water. When configured with our high performance glass media, our elements are able to achieve a filtration efficiency of 99.5% at micron ratings as low as 1 micron.A variation of the standard absorption element is the color change element. These elements are used in compressed air applications to absorb oil and oil mists in critical applications. Our color change elements use a silica gel desiccant that indicates to the user when the element has reached the end of its filter life by changing colors.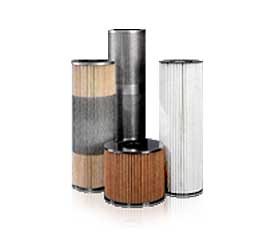 The Fullers Earth is used to adsorb soluble contaminants such as gums, resins, waxes and acids from fuels, oils and solvents. Carbon elements are used for the removal of color and odor from potable liquids such as water, vegetable oils and mineral oils. Adsorption elements are not intended for filtration. However, due to their construction, they provide filtration down to 5 micron in the Fullers Earth elements and 1 micron in the Carbon elements. These elements are limited to 300° F and 50-80 PSIDP differential pressure.
The prime use of Fullers Earth elements as in the removal of acids in oil reclamation and surfactants in aviation fuels. The largest use of Carbon elements is in the purification of water.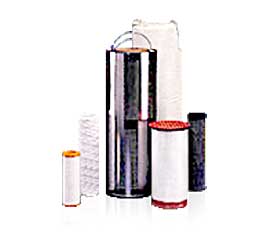 Panel filters are commonly used on intake and exhaust applications. Some of the common applications are compressor intakes, grease catchers, spark arrestors, HVAC filtration, odor removal, and the final filtration of dust collection systems.
This product line is offered in several medias including stainless steel mesh, pleated cellulose, aluminum mesh, polyester felt, HEPA, carbon bed, and fiberglass. We have panel filter medias available with an efficiency range of 0.3 – 500 micron. Fluitek also offers high temperature and all metal panel filters for applications that are used in applications that require high temperature medias or cleanable panels.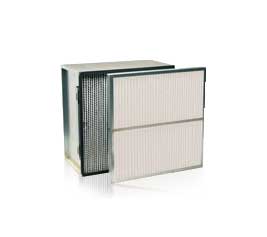 Pleated Media Elements are ideally suited for removal of hard, granular contaminants from lubricating oils, hydraulic oils, fuels and water.
Fluitek elements are made of special resin-impregnated cellulose or synthetic media, corrugated and pleated to achieve extended area for high flow rates, low pressure drop and microscopically fine filtration.
A wide variety of models and sizes are available to cover flow rates up to 300 GPM/element, 0.25-80 micron filtration selectivity, and 4200 PSIDP collapse pressure when screen supported media are used. Multi-layer laminated micro-glass assures Beta 75-300 absolute ratings at high flow rates and large dirt-holding capacities.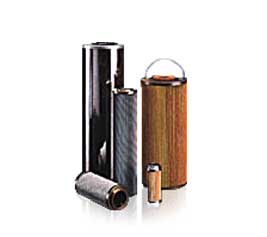 Fluitek offers several types of process cartridges. Wound, pleated, melt blown, and resin bonded are a few of the many process cartridge options that we have available. Fluitek process cartridges are used in a wide range of filtration applications including RO system pre-filters, beverage, ultra pure water, chemical, ink, paint, and sterile vent air filtration.
There are several different media options available including cellulose, polypropylene, cotton, PTFE, PES, stainless steel, and microglass. The wide range of media options allows us to offer filtrations solutions for various applications with an efficiency range of 0.1 – 400 micron. Fluitek's process cartridges are available with all the popular end cap configurations which enables our cartridges to fit into existing housings without modifications. From standard every day drinking water to final filtration elements at a brewery, Fluitek has the process cartridge to meet the quality and reliability that your application demands.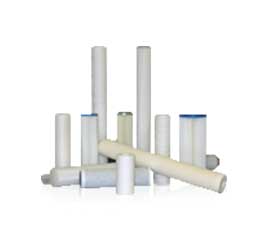 Radial Fin Elements are extended area, star-shaped elements developed for the removal of atmospheric dust from the air intake of compressors, blowers, and engines and for the removal of hard contaminants from hydraulic fluids, lubricating and fuel oils and process fluids.
Most radial fin elements are made from mono filament woven fabrics, or felted media made from natural or synthetic fibers. The filtration efficiency range covers a wide variety of media in the 0.3-200 micron selectivity with a 100-1000° F temperature range and 70-100 PSIDP collapse pressure, with supporting screens.
With the versatility of today's fabric materials, the availability of styles and media finishes coupled with a full range of micron selectivities, Fluitek is able to offer hundreds of different models for virtually any application.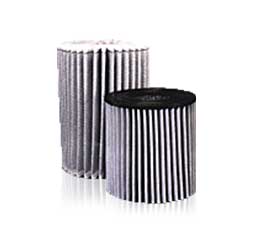 Spin-on elements are disposable elements in a self contained metal housing. These elements are used for the removal of contaminants from hydraulic oils, coolants, lube oils, fuels, water, and reservoir tank air breathers. Fluitek spin-on elements contain surface or depth loading medias such as cellulose, micro glass, water absorbing, or stainless steel mesh. The variety of available medias allows for elements that are suitable for flow rates up to 100GPM and a micron efficiency of 1-150 micron.
Fluitek also offers spin-on filter heads to fit both our filter elements and our competitor's elements. We have heads available in single or multiple element designs. They are offered with NPT, SAE, and BSP port options ranging 1/4″ – 1 7/8″. Each head has a variety of gauge and indicator options to let the operator know when the element needs to be changed.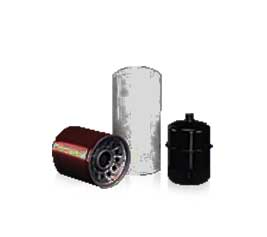 Wound Elements are used in the filtration of liquids and gases containing small particulates or limited soft contaminants. These elements are used in a broad range of industrial, chemical and process industries.
Made from string which is continually wound in a spiral pattern on a rigid center core, wound elements are made from natural or synthetic fibers with a nominal rating of 0.5-200 microns, in a temperature range of up to 750°F maximum and a collapse pressure of 80-100 PSIDF1.
Fluitek's wound elements are constructed with pure materials, with no binders or cements, making them ideally suited for food processes, pharmaceutical and FDA applications.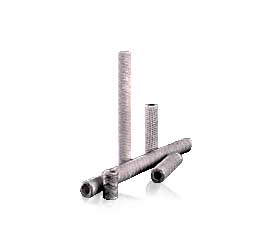 Fluitek's air intake elements were developed for the removal of atmospheric dust or particulate in the air intake system of compressors, blowers, vacuum pumps, engines, etc. Our versatile manufacturing process enables us to offer these filters in thousands of different sizes and media configurations. Most intake filters are made from cellulose, woven fabrics, or felted medias with either sewn, molded, or metal end configurations.
We have over 100 different types of media that are used to provide intake filter solutions with an efficiency range of 0.3 – 750 micron. Some intake filters are used in high temperature environments. Fluitek offers elements for these applications with temperature ratings up to 1000°F.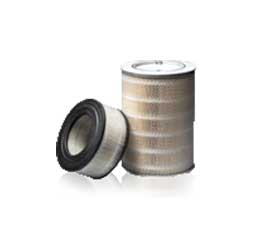 Over 300 models of air/oil separator elements are available utilizing a cylindrical or pleated design of micro glass with a variety of flanges, gaskets and kits. Air flow capacities of up to 3000 CFM/element with 0.3-10 micron aerosol selectivity and 99.9% removal efficiency are available. These elements are limited, however, to 225°F operating temperature at 50 PSIDP maximum differential pressure.
A variation of Fluitek's air/oil separator elements are the Mist Eliminator Elements which are used for the elimination of oil smoke and mist from mechanical and rotary vacuum pumps.
Fluitek's filtration bags are offered for both liquid and dust collection applications. Liquid filtration bags are commonly used as an inexpensive solution for the removal of bulk solids from applications such as coolant filtration, ink filtration, paint strainers, and various water pre-filter applications. We offer both welded and sewn seam bags with several end configurations available to fit all major brand housings currently used in the industry.
With over 30 different types of woven and non-woven medias available, we literally have thousands of standard bag options available to meet your needs. While standard bags may be the most common choices, we also can make custom designed bags to fit unique requirements that may call for special medias or custom sizes.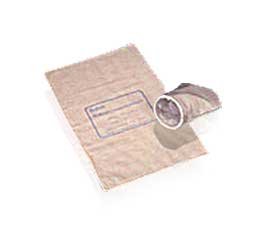 Fluitek's coalescer and separator elements were designed specifically for the separation and removal of water from gasoline, aviation fuel, kerosene, and diesel fuel. Made from a combination of pleated and wrapped layers of fiberglass media, our coalescer elements are capable of high flow rates and water removal down to 5ppm. Depending on the application, Fluitek offers coalescing elements with filtration efficiencies ranging from 0.5 – 25 micron.
The accompanying element to the coalescer is a separator element. Our separators are offered in several types of media such as Teflon® coated, fully synthetic, and silicone treated cellulose. We have coalescer and separator elements available to meet commercial, military, and American Petroleum Institute (API) specifications.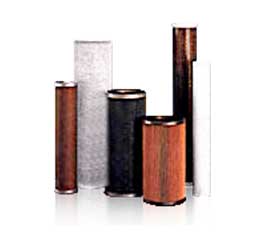 Compressed air filtration is one of the most common and most critical forms of filtration in the industrial market. Coalescer, particulate, and carbon absorption filters are the three most common types of compressed air filters. These filters are used to remove solid particulate, water, oil mist, and oil/water vapors from compressed air systems. Fluitek compressed air filters are placed at strategic locations throughout the compressed air system to protect equipment such as air dryers, cylinders, valves, and lasers.
Most compressed air filtration systems are designed to remove submicronic contaminants. In order to meet these requirements, our filters are offered in a micron range of 0.01 – 100 micron. Our coalescing filters use a specially formulated borosilicate glass media to achieve coalescing results of less than .003 ppm oil carry over. There are over 20,000 filters available in this product line which includes a wide range of sizes and medias to handle high flow applications and temperatures up to 450°F.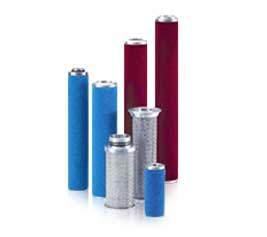 Fluitek offers a complete line of compressor filters including air intake, lube oil, and air/oil separators. These filters are used to maintain clean air, clean oil, and to retain the oil in the compressor after the compression cycle. Our filters are designed to meet the compressor OEM specifications to assure protection of vital components on all major brands of air compressors.
Fluitek compressor filters are available for all types and designs of compressors including rotary vane, rotary screw, natural gas, and ammonia refrigeration compressors. We have over 100 different brands of compressors interchanged and over 10,000 different high quality compressor filters available.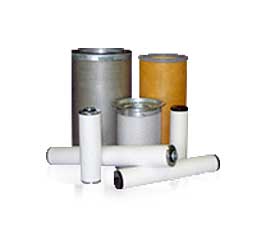 Depth elements are used in low flow filtration systems such as applications containing soft contaminants, sludge, slime, or waxes. Fluitek depth elements are most commonly used to clean or recycle hydraulic oil, compressor oil, gear oil, quench oil, or various other fluids with off-line or side-stream kidney loop systems.
This series of elements is available in several different sizes and forms. There are a lot of different options of medias including cellulose and synthetic fiber blended medias. Fluitek depth filters are available in an efficiency range from 1 – 150 micron and up to a 350°F max temperature rating. The prime advantages of depth filtration elements are high dirt holding capacity, long filtration cycles, and high retention of small particulate in polishing applications.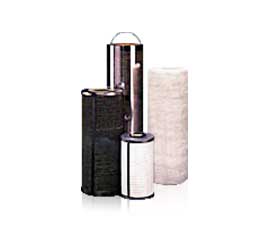 Fluitek dust collector elements are available in all of the current designs used in the industry. Sewn bags, cartridges, and pleated bags are some of the most popular types of dust collectors. We offer solutions for many applications including powder paint, welding exhaust, food manufacturing, and paper dust. Most suppliers are only able to supply the standard dust collector cartridges that are common to the industry. Fluitek has these as well but also has the ability to engineer custom critical filters for food grade, pharmaceutical, and high temperature applications.
Fluitek has over 28 different dust collector medias available to meet various application requirements and temperatures up to 500°F Some of our available synthetic medias offer a cleanable solution for customers who are looking to extend the overall cartridge life in their collector. The combination of media options and the thousands of end sizes and configurations gives us nearly unlimited design capabilities.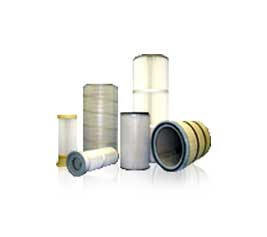 Fluitek hydraulic elements are used for the removal of fine and granular contaminants in critical filtration applications. These applications include servo valve protection, engine test stands, power units, turbine oil filtration, and paper machine lube systems.
Our hydraulic filters are available in cellulose, microglass, stainless steel, and sintered stainless steel medias. Our specially engineered microglass media was designed to meet beta efficiency results based on ISO4572 and ISO16889 testing standards. With a Beta 200 or higher efficiency at micron ratings of 1 – 40 micron, our elements offer high performance filtration results that will meet or exceed our competitors' specifications for efficiency, dirt holding capacity, and overall filtration life.
Fluitek has over 28 different dust collector medias available to meet various application requirements and temperatures up to 500°F Some of our available synthetic medias offer a cleanable solution for customers who are looking to extend the overall cartridge life in their collector. The combination of media options and the thousands of end sizes and configurations gives us nearly unlimited design capabilities.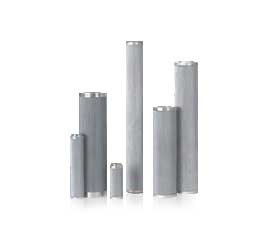 Fluitek's all metal elements are designed for the removal of hard, course contaminants from applications including plastic extrusion, hydraulic oil, lube oil, cutting oil, fuel, and solvents. Our metal element line is offered in a variety of end configurations and micron ratings ranging from 5 – 750 micron. This style element is also available in all welded or crimped end configurations which eliminates the use of adhesives in the filter.
Adhesive free cartridges are used in aggressive chemical or high temperature applications that cannot be limited by the temperature rating or compatibility of the potting compound. Considered cleanable and reusable, Fluitek's metal elements are used in return line, suction, pre-filter, and some final filter applications. Our ability to fabricate custom end caps and pleat packs allows us to offer an all metal element in almost any style, shape, and size. With several types of metal medias available including carbon steel, stainless steel, and titanium, Fluitek is able to build an all-metal cleanable filter to fit most filtration applications.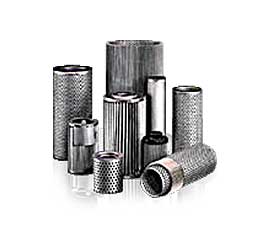 Flow Ezy has been manufacturing custom filters since 1945. Custom filters, pleated filter bags and strainer baskets for a wide variety of Industries including hydraulic, fluid power, waste and recreational water, power generation, food and beverage, and nuclear power. All of the latest materials and techniques are applied to servicing your filter needs.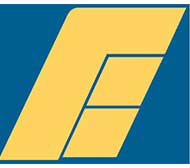 Flow Ezy offers hundreds of replacement elements.
Interchanges for:
Parker
Vickers
Marvel
Schroeder
Pall
Donaldson
and many others…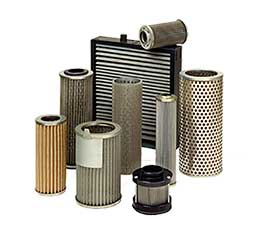 Contact us for more information on replacement filter elements. Click here or call 412-269-0020. A qualified professional is waiting to assist you.