Below are the industrial enclosures we carry.
HotCaps™ Removable Insulation Covers

Ohio Valley Industrial Services manufactures a complete line of removable-reusable insulation jackets to meet most industrial, commercial, and laboratory insulating requirements. HotCaps™ are the cost effective way to insulate valves, flanges, expansion joints, and other components, providing the user with the energy savings associated with permanent insulation and the flexibility of reusing the cover.
HotCaps™ can be fabricated from a wide range of materials depending upon the system temperature and specific service environment. The insulation jackets are made from various grades of industrial woven fiberglass fabric, encapsulating high temperature insulation. Silicone impregnated fiberglass cloth jacketing provides excellent oil, moisture and abrasion resistance, while PTFE coated fiberglass is recommended for corrosive environments. Fiberglass cloths laminated with metal foil are also available for applications requiring a vapor or hydrocarbon barrier. Hot Caps are used in applications ranging from cryogenic temperatures to 2300 degrees Fahrenheit plus.
Energy Saving and Cost Effective
Oil, Moisture and Abrasion Resistant
Meets Most Industrial, Commercial
and Laboratory Insulating Requirements
Applications:
Valves, Flanges, Piping, Instruments
and Heat Exchangers
Asbestos Free Material
Applications to 1800º Fahrenheit
Form Fitting
Can Be Installed and Removed In Minutes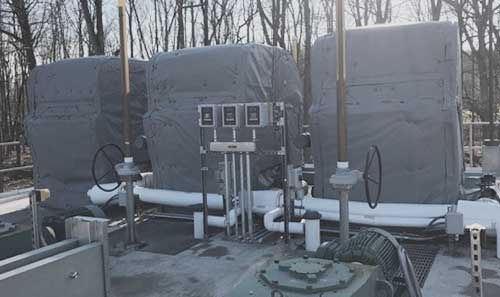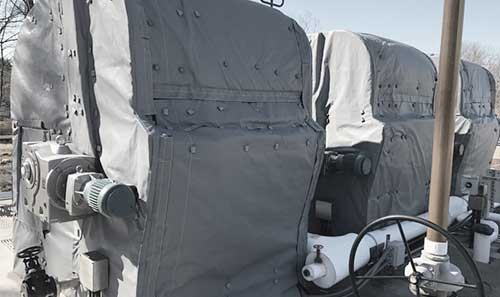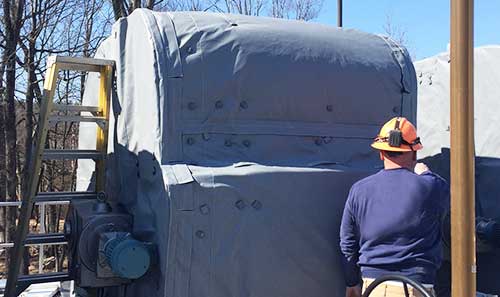 Warminister FIberglass Enclosures
Warminster Fiberglass Enclosures provide fiberglass enclosures of every kind.  Standard enclosures house single and multiple instruments.  Cabinets and modular housings are made to suit various shapes and sizes of equipment.  Options include hinges, latches, external pipe stand mounts, internal mounting rails, safety glass windows, and heaters with thermostats.
From a simple 36″x 27″x 6'9″ to a whopping 20'x 60'x 16′, Warminster Fiberglass can custom-fabricate a shelter to fit your exact needs. Hundreds of options are available, including:
Colors, floors and extra insulation
Door size, type, location and hardware
Heating, cooling and electrical options
Interior partitions, shelves and equipment racks
The all-weather, maintenance free shelters are corrosion resistant and industrial quality. NO WOOD is used in the construction of buildings. All buildings are designed to withstand wind loads of 125 mph and snow loads of 30 lb/sq ft.
These types of enclosures can also be used for:
Chemical storage
Chlorination equipment
Guard shacks
Fire fighting equipment
Generator housings
Lift stations
Laboratories
Microwave stations
Navigation aids
Maintenance buildings
Safety showers
Sampler housings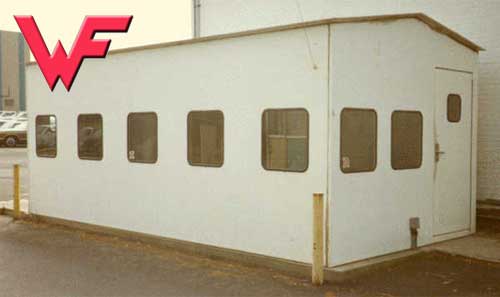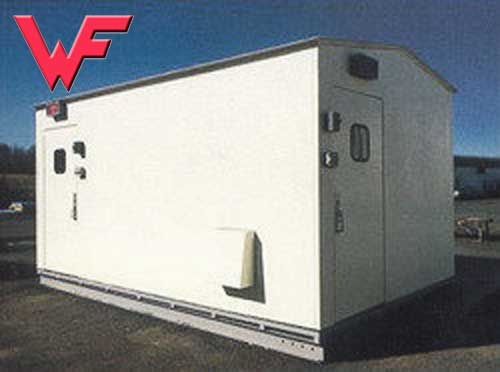 Contact us for more information on industrial enclosures. Click here or call 412-269-0020. A qualified professional is waiting to assist you.