We supply all of your quick coupling needs through trusted suppliers. These are listed below according to manufacturer.
Parker is the largest quick coupling manufacturer in the world, providing quick disconnects and accessories that are appropriate for use in countless applications across widespread markets where hoses and fluid lines are connected and disconnected.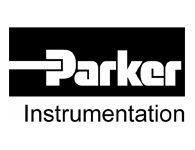 Parker FS Series couplings virtually eliminate fluid loss upon disconnection, and minimize air inclusion during connections. They are ideal for use where spillage may cause undesirable conditions or constitute a safety hazard. The FS Series couplings have double shut-off flush mating valves that are suitable for sealing off media in chemical processing, chemical dispensing, food processing, and other corrosive applications. Working pressures to 2000 psi.
Features
Simple to operate: Push to connect, pull on knurled sleeve to disconnect.
Flush face valves exhibit minimal spillage upon disconnect and minimal air inclusion upon connect.
Superior locking ball design – a large number of locking balls distribute the workload better and allow for some rotation between the male and female halves of the coupling under pressure.
Excellent flow vs pressure drop characteristics when compared with other low spill quick couplings.
Material construction is 316 stainless steel with Fluorocarbon seals as standard.
Wide range of seal materials available.
Repair kits available to replace critical elastomer seals (all sizes).
Coupling sealing integrity is approximately 1 x 10-6 std. cc/sec. Helium under 50 milliliter of vacuum.

Non-Spill Male Pipe Thread

Non-Spill Female Pipe Thread

Non-Spill SAE Straight Thread
Instrumentation Couplings CPI Series
CPI Series Features
Simple push-pull action to connect and disconnect lines–no tools required.
Reliable, leak-tight O-ring seals for vacuum or pressure systems.
Couplers and nipples are available valved or unvalved. Valves automatically open when connected and shut off when disconnected to minimize the loss of liquids or gases.
Positive valve stops prevent flow checking.
Valve guide positively aligns valve with seat to prevent leakage.
Durable ball-locking mechanism assures reliable connection while distributing the load and providing alignment and swiveling action.
CPI Series couplers and valved nipples are 100% factory leak tested to 1×10-3 cc/s.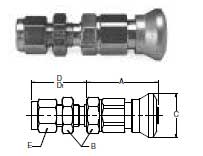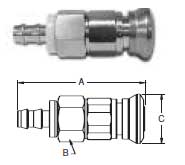 Applications
The Parker ST Series are non-valved couplings for applications where maximum flow is required. Their smooth, open bore offers the lowest pressure drop of any quick coupling design and is ideal for applications such as high pressure water and steam washers, carpet cleaners and mold coolant lines. They are often used in food processing, on fluid and dye transfer lines.
Special Order Information
All sizes of ST Series can be furnished with locking sleeves. Place suffix letters "SL" (Sleeve-Lok) after regular catalog numbers. Example: SST-4MSL. Standard seal material is Nitrile. Ethylene Propylene, Fluorocarbon, or Neoprene seals are available upon request. See Fluid Compatibility Chart for recommendations.
Features
The smooth, open bore with no valving in either half offers minimal pressure drop and allows easy cleaning in applications where the same lines are used for more than one media.
ST couplers and nipples are machined from solid barstock, providing a quality coupling that is durable. ST couplers are available in brass and 303 and 316 stainless steel as standard product materials.
ST nipples are available in 303 stainless steel, 316 stainless steel, brass, and carbon steel.
The ST series is an interchange coupling that dimensionally and functionally interchanges with similar couplings made by other manufacturers.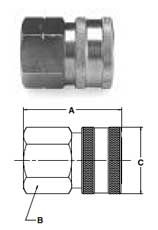 High Flow Female Pipe Thread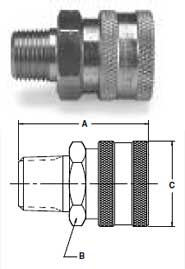 High Flow Male Pipe Thread
General Purpose Couplings
Applications
Parker general purpose couplings, are used across the spectrum of hydraulic applications. These Double Shut-Off couplings can be found anywhere that fluid transfer lines need to be connected and disconnected for operation or maintenance of equipment, and a loss of fluid is undesirable. Primarily used with hydraulic fluid, general purpose Double Shut-Off couplings are also used with chemicals, water, steam, and some gases.
Special Order Information

60 Series couplings are available in brass, 303 stainless steel, and 316 stainless steel. Brass couplings have double O-Ring seals and stainless locking balls.
Standard seal materials are Nitrile; optional seal materials are available.
For 316 stainless steel, standard seal material is Fluorocarbon, and other seal materials are available upon request.
All sizes of 60 Series can be furnished with locking sleeves. Place suffix letters "SL" (Sleeve-Lok) after regular catalog numbers. Example SH3-62SL.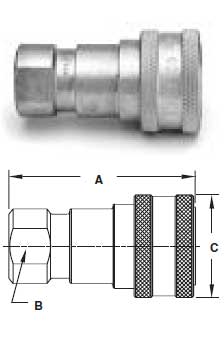 General Purpose Female Thread
Features

Large flow areas machined into the body of the coupler and nipple facilitate flow around the valve, for a high flow capacity.
Positive valve stop. The perch maintains valve alignment and provides metal to metal valve stop to ensure that the valves open fully, every time.
Captive valve seal assures "bubble tight" poppet sealing. The valve seal is positively captured by the metal poppet to minimize seal washout or damage from high velocity fluid.
The seal is designed to withstand high pressures and provide reliable sealing. A wide selection of optional seal materials are available. Stainless steel
versions feature PTFE back-up rings that support mating seals for high pressure applications. Brass couplers have a double O-ring seal for redundancy in low pressure, vacuum and steam applications.
Durable ball-locking mechanism assures reliable connection, every time. A large number of locking balls distributes the work load evenly while providing alignment and swiveling action to reduce hose torque and prolong hose life.
Manufactured from brass, steel and stainless steel as standard materials. A wide range of seals allow these couplings to be used with a broad range of media.
Industry-wide interchangeability. Parker 60 Series couplers and nipples are the "Industrial Interchange" design and Interchange with all ISO 7241 Series B couplings.
Also available with a Straight Thread (ORB) end configuration available as standard, for reduced leakage.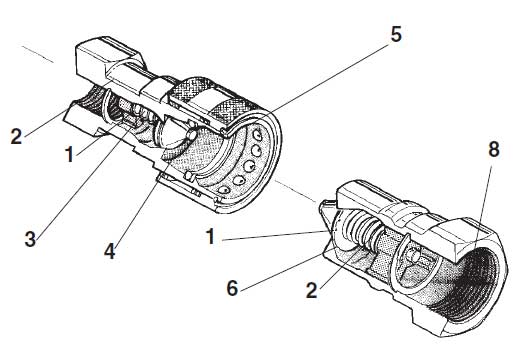 General Purpose Couplings Features
PF Series
Applications
Chemical Dispensing Systems
Spray Application Equipment
Mini Bulk Tanks
Replacement for Banjo Style Camlok Fittings & Ball Valves
Bulk Transfer Barrels
Features
The Parker PF Series Dry Disconnect couplings virtually eliminate fluid loss upon disconnection and are designed to help meet the demand for closed system transfer and dispensing of chemicals and fluids with minimal environmental contamination. They can be used with concentrated or diluted industrial chemicals, fertilizers, herbicides, insecticides, fungicides or pesticides when transferring from bulk storage tanks, returnable containers, applicators, etc. The PF Series 2″ body size is ideal for large bulk transfer of fluids and eliminating fluid spillage when connecting and disconnecting.
Thermoplastic PF Series Couplings
Quick Couplings Accessories
Quick Coupling Accessories include caps and plugs to protect quick couplings from environmental damage when they are disconnected, repair kits to replace seals and worn parts, and coupler mounting clamps.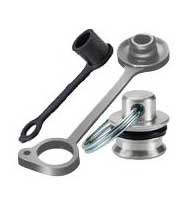 Protective Dust Caps And Plugs
Contact us for more information on your quick coupling needs, both listed and not listed above. Click here or call 412-269-0020. A qualified professional is waiting to assist you.